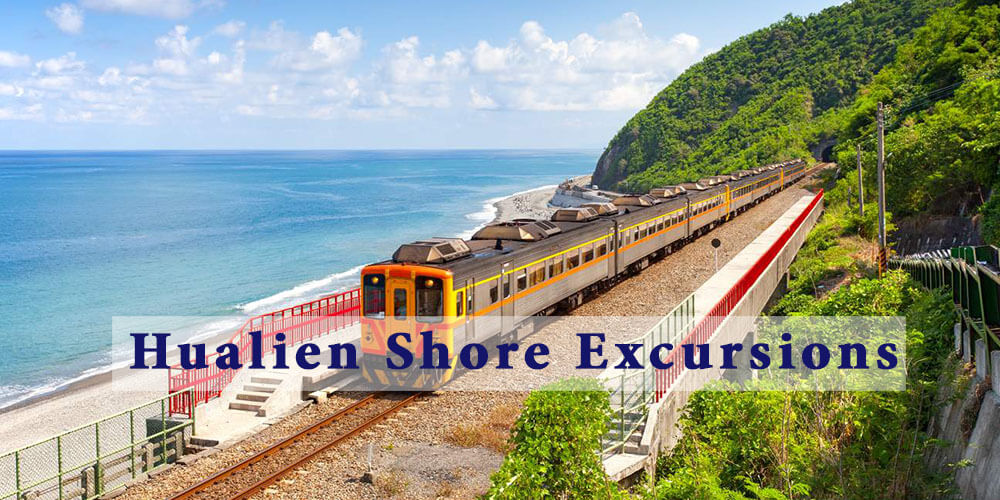 Hualien Shore Excursions, Day Trips & Tours from Hualien Cruise Port
Once you set your foot on Hualien, the Taroko National Park definitely is one of the must-see destinations. Adore and soak into the awe-inspiring natural beauty of Taroko Gorge, one of the Seven Natural Wonders of Asia. Expect to see the picturesque mountains and sheer gorges with many mighty natural wonders. There stands numerous silver waterfalls and marble cliffs stretching along the Liwu River, they are waiting. Such special geography has also bred varied flora and fauna in this area. Many generations of the indigenous Taroko people have settled down here. Besides, savor the mouth-watering local cuisine including vegetables, grilled wild boar, and millet wine! For the more active travelers on Hualien shore excursions, there are a few hiking trails with the breathtaking view and great water areas to go swimming and river tracing.
China Shore Excursions provide a wide range of choices for Hualien shore excursions and day tours. Especially, for cruise ship passengers docking at Hualien Port, Taiwan which covers all the highlights of Hualien. If you do not find any suitable Hualien day trips from port, please contact us. We'll help you design a unique trip that exclusively for you.
---
Things to Do If You Have One Day in Taiwan's Hualien 
Coming to Taiwan and you just have one day here, let's start your day with the Taroko National Park Tour. There has a myriad of tour itineraries which start every day from dust till dawn to take you to every corner of the county, from the tourist Taroko national park to the bustling Dongdamen night market. If you are planning an excursion tour in Hualien, this article may be useful for you.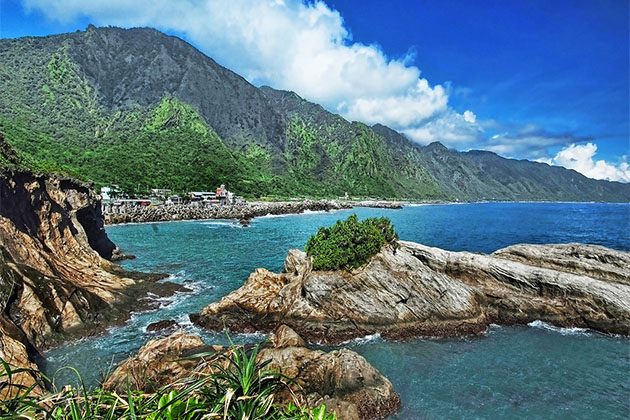 Taroko National Park
You can take the earliest train from Taipei Main Station to Hualien Station if you don't plan to stay at Hualien for at least a night. The tours usually start at 8 AM anyway. Thus, if you have no problems with waking up and preparing early in the morning, taking the train would be just fine.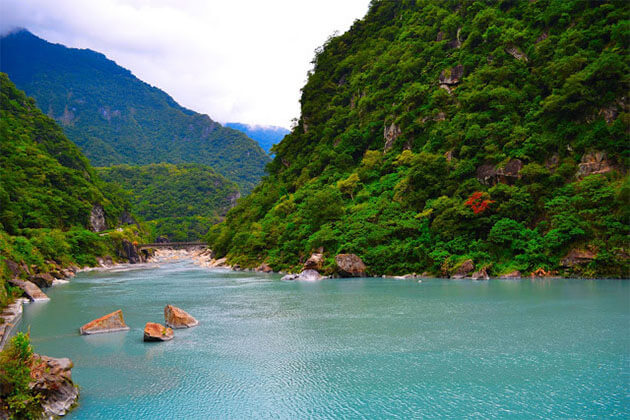 The Taroko National Park is one of Hualien's pride. A lot of local and international visitors come to Hualien county to explore one of Taiwan's nine national parks. And because I've seen the place with my very eyes, I think I'm entitled to say that it's a must-visit. Even the train ride from Taipei going to Hualien county is scenic. The view of the Pacific Ocean from the Qingxi Cliff is breathtaking. The cliff is also a popular prenuptial photoshoot area in the province.
Taroko Gorge
True to its name, there are a lot of gorges in Taroko Gorge. During the excursion, there have been closed parts of the national park because the rocks were falling. It's one of the things that you must take note of when visiting. They regularly check the area for falling rocks. So, don't be surprised if you won't be able to see everything in one day.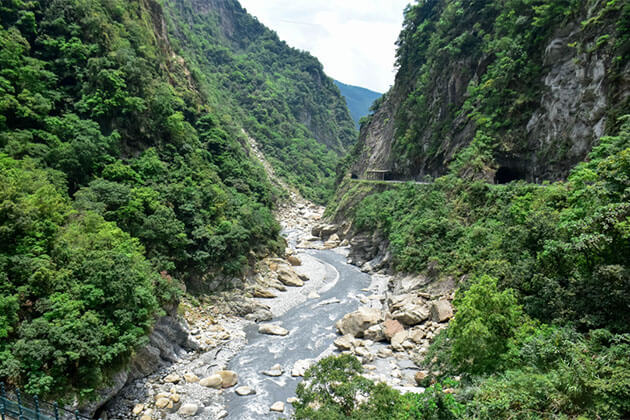 Aside from the gorges and the breathtaking scenery of the Pacific Ocean, there are also a lot of hanging bridges inside the national park. But even though it's a little nerve-wracking to walk on those, quite fascinated with them. The Eternal Spring of Shrine is also a must-visit place at the Taroko National Park in Hualien County. This shrine is truly a memorial complex in the county showcasing the view of both the mountain and the waterfall. In here, you will see the list of the names of 212 veterans who died while constructing the highway between 1956-1960.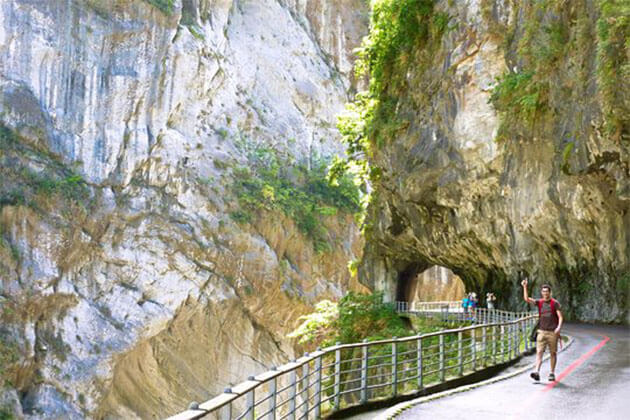 Other Places to Visit in Hualien Tours & Day Trips from Cruise Port
The Qixingtan beach is one of the cannot-miss places in your excursion, you can rent a bike then explore this site, it must be a real adventure for you. The southern part of the beach is much closer to Hualien City. The beach is a perfect spot for stargazing during the night. Just note that setting up fireworks in the vicinity is against the rules.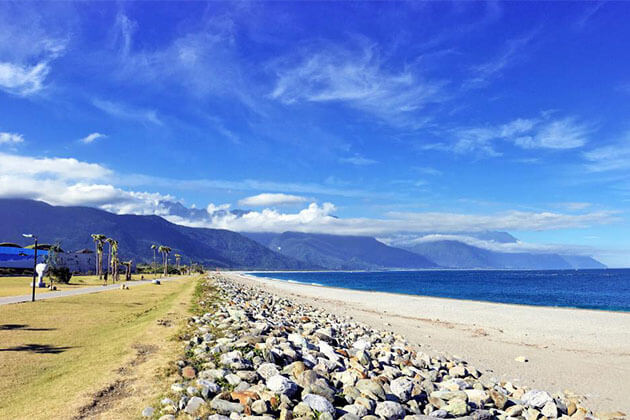 If you have more time to explore, you can try visiting one of Hualien's temples. The county is also famous for whale watching and water sports. But that's more feasible during an extended stay.
Dongdamen Night Market
If you have traveled to Taiwan or ever search about it, you will know that the Taiwanese love night market, in another way we can say that the nightlife of Taiwanese is so bustling, and should try. And of course, Hualien is not an exception. Hualien has its night market, and one of them is Dongdamen. It is the largest night market in Taiwan, and don't be surprised if you find yourself exploring here for hours.
There are a lot of stalls there that sells varieties of food from scallion pancakes to desserts. If you have an idea of how much Taiwanese love their street foods, you will not let the opportunity of visiting this place go. You can try more on the local food here if you are in Hualien shore excursions. The night market of Dongdamen is not just a paradise for food lovers, it's also the best place to chill. There are tons of Totoro items here, too. More than what you've saw in Japan. So of course, you had to buy some for yourself. This trip was, after allembraced the art of minimalism. There is also an area for games where you can win prizes and of course, acts to entertain visitors. Even during the weeknights, the night market already had a lot of visitors so I can only imagine when it's the weekend. Dongdamen night market opens at 5.30 PM and closes at 11.30 PM.
Hualien County
Whenever travelers think about the county of Hualien, you must be hesitant at first. That's why I opted for a paid English tour even though it was costly. But looking back, I think that it was worth it. I had a lot of fun. Of course, the hiking trails were great exercises for me, too.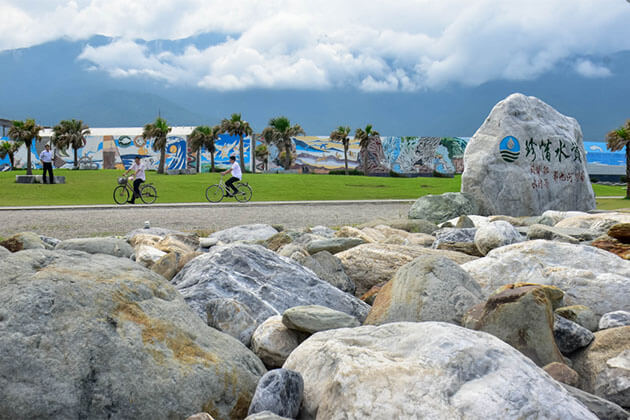 On this day, Hualien is far more accessible than during my visit. That's why if I had it fun and comfortable during my time, I'm sure you will, too. So, if you're still deciding if you should go or not, consider this. Let the photos do the talking and let the natural beauty of Hualien county convince you.