Surrounded by the splendid Karst Mountains, Guilin is one of the most fascinating cities to visit while on a China tour. The beauty of Guilin is described as a sparkling pearl on a green carpet and the scenery enjoy the praise of "top landscape in the world". In autumn, when the sweet osmanthus is in bloom, the air of Guilin city is filled with the fragrant smell of the blossoms. The green trees grow everywhere in and outside the city create a modern pristine oasis.
Whether you ride on a picturesque river cruise or sample delicious local cuisine, a visit to Guilin is one of the most breathtaking things to do in China. Keep reading to discover what fascinating things to do and see in Guilin by the top China attractions list below!
Top 5 Things to Do in Guilin, China
Cruise on The Li River
Li River Scenic Area is a bright pearl among China's beautiful mountains and rivers. This majesty river is well-known for being one of "the world's top 10 watery wonders" according to National Geographic. To enjoy the majesty landscape of Li River, a cruise from Guilin to Yangshuo boasts the most beautiful scenery. This Guilin sightseeing cruise takes around 4 – 5 hours when it meanders down the river for 83 kilometers from Guilin to Yangshuo. That sounds like a long time but the Guilin scenery is so spectacular that you will hardly to take your eyes off.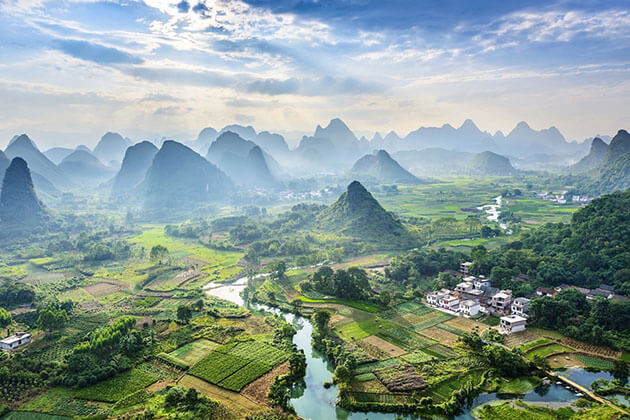 Elephant Trunk Hill
With a very special appearance, Elephant Trunk Hill is the symbol of Guilin city, which stands downtown on the conjunction of the Li River and the Peach Blossom River. As the name implies, the whole hill looks exactly like a huge elephant stretching its trunk drinking water of the Li River.
This majesty site like a masterpiece of Karst landscape, composed of pure limestone deposited on seabed 360 million years ago. Between the "trunk" and the "body" is an enormous round cave which resembles a full moon on water hence the name Moon-over-Water Cave. When the waters wave and the moonlight gleams, the scene is extremely enchanting. Elephant Trunk Hill deserves one of the best places to visit when you are on Guilin Tour.
Xianggong Mountain – A Bird's Eye View of Yangshou
Xianggong Hill was a hidden gem of Guilin until a picture shot on the top of this mountain won the bronze medal in the 10th International Photography Exhibition. It is considered one of the best places to enjoy the panoramic views of Li River, and attracts a lot of tourists every year, especially enthusiastic photographers.
The most classic ways to visit Yangshuo are go hiking, take a bamboo boat trip on the Li River and go riding in the countryside. However, to admire the best breathtaking panoramic view of the Li River, you should try to stand at the top of the hill. Here, you will see the hills arranged in an orderly fashion in front of you while the light, shadows, clouds, and sunrise help you soak up the incredible views.
A Visit to Minority Family Who Make Oil Tea or Bamboo Rice
Bamboo rice is a landmark food in Longji. The ingredients include rice, corn, taro, and pork, stuffed in a 20cm (8in) long bamboo stem, then roast in a fire shelf. Local people will show you every step of how to make it. It will take 40 minutes to cook and you can get a chance to chat with the family and walk around their old wooden house.
For those who live in the mountain area, oil tea is considered as a typical drink among Yao ethnic village. It can quench thirst and cure rheumatism in humid mountain areas. Visiting a Yao family in Longji and learning the oil tea making process is an excellent way to experience local life.
Chinese Cooking Class in Yangshuo
Chinese cooking classes are very popular among foreign travelers in Yangshuo. Most of them will select one of the best Chinese restaurants offering delicious local dishes in Yangshuo, which is conveniently located in the busy West Street. Coming to these restaurants, you will have a chance to learn a lot of useful things. The chef not only teaches you how to cook but also talks about Chinese culture and takes you to the local farmer's market to see what the Chinese eat daily. Each student cooks their dishes and then enjoys their own labor by eating the result. Many consider it a-once-in-a-lifetime experience.
Spectacular Landscapes for Guilin, China Tours & Day Trips from Cruise Port
Discover Reed Flute Cave
Apart from karst mountains, the limestone karst caves in Guilin also should be towards the top of any must-see attractions in Guilin list. Located at the northwest of Guilin City, 5 kilometers away from the center of the city, Reed Flute Cave like a magnificent underground palace containing a large number of exquisite stalagmites, stone pillars, stone mantles, and stone flowers. Especially in the deep of cave, the Crystal Palace is like a fairyland under the colorful lights. As one of the must-see places in Guilin, Reed Flute Cave has been a tourist attraction in China for 1200 years and has inked inscriptions on the walls dating back to 782 AD!
Visit Longji Rice Terraces and Minority Villages
Longji Rice Terraces, also known as Dragon's Backbone Rice Terraces is a large-scale terraced field in Longsheng, about 90 km (56 miles) from Guilin, which definitely is one of a great place to explore. Most travelers will be by its shape for the first time. In fact, the rice terraces are built into the hillsides and look like giant steps cut into the slopes as they wind around the mountainsides. This dedicate construction makes the best use of the scarce arable land and water resources in the mountainous area. Many people come here to enjoy the enchanting landscape and the special sunrise view. In addition, there are several ancient minority villages for Yao, Zhuang and Dong people who inhabited here for hundreds of years. Therefore, you can not only appreciate the splendid natural scenes but also experience the glimpse of genuine folk life and culture of the two minorities.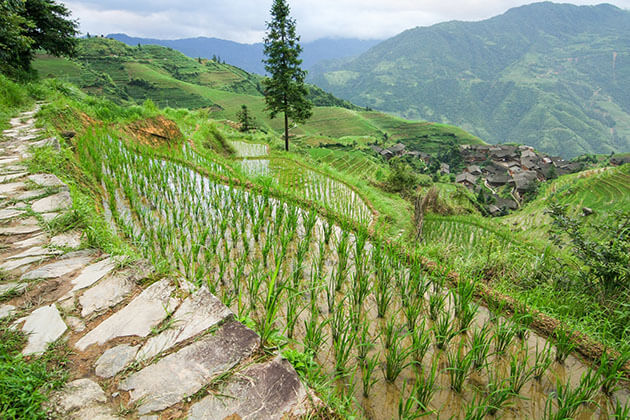 Relish in Impressive Liu Sanjie
The Impression of Third Sister Liu (Impression Liu Sanjie), directed by Yimou Zhang, is praised as a must-see night show for all global visitors to admire the fantastic outdoor evening show in combination with the real backdrop, Guangxi folk songs, ethnic cultures and local life of Yangshuo people. The stage is a 2km stretch along Li River with 12 mountain peaks and the blue sky as the background. The Impression Sanjie Liu is not only a show to enjoy lights and backdrop sceneries but it also consists of 7 parts to express the story of Liu San Jie Sanjie who was a very famous figure in the local folklore and the real life of local ethnic minority people, with 5 distinct themes in different colors. Watching this show in this environment is considered to be a once-in-a-lifetime experience.
Take a Visit to Daxu Ancient Village
Daxu Ancient Town, one of the "4 famous ancient towns in Guangxi Province" with more than 1,800 years of history, is a top popular historical and cultural site among Guilin travelers to enjoy its antique and remaining prosperous charm from its old folk houses, stone bridge from Ming era, worn bluestone streets and frugal local lifestyle.
Best recommend for visiting Daxu Ancient Town is strolling along the lengthy and narrow blue flagstone paths. Houses on both sides are made of black brick and grey tile in the style of the Ming and Qing Dynasty, reflecting historical vicissitudes over past years. Walking along the old street, you will feel like you are back in time and those age-old buildings are telling you enchanting stories. Moreover, Daxu Ancient Town also has ancient workshops where bamboo weaving and shoe-making was done, as well as old-style barbershops.
The elder here often gather together to chat and drink tea or they sit at the door, reading books. You will find that villagers lead a slow-pace and carefree life, with a soft and contented smile on their faces. If you are interested in places that are unique, antique and not commercialized, Daxu Ancient Town will be a satisfying place to visit.
West Street – Global Village in Yangshou
West Street is the oldest street located in the heart of Yangshuo Town with more than 1,400 years' history. This street has become not only a cultural exchange spot for the east and the west but also the biggest 'foreign language center' in China since the 1980s. Each year, this most prosperous district attracts approximately 100,000 foreigners come here on their travels or to attend advanced studies.
Visiting West Street, travelers will be surrounded by an array of traditional folk and surprising international elements. Hundreds of shops with many amazing varieties of local crafts, antiques, and souvenirs make this a shoppers' paradise. Many visitors love to stay the night in Yangshuo to enjoy it in a more leisurely way or take in some of the active nightlife.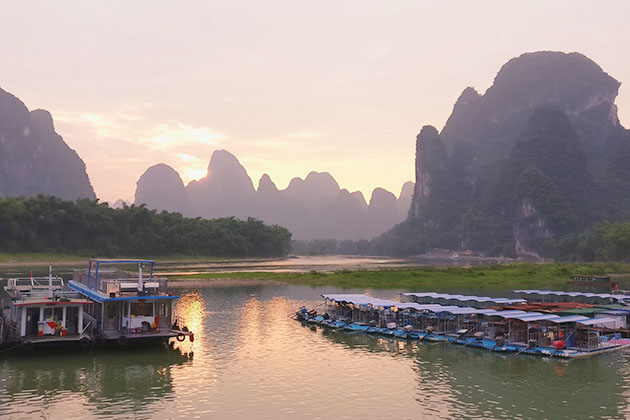 The West Street does not only satisfy you visually but also make you be tempted by various foods from all over the world such as Ciba (a kind of Chinese rice cake) and Yangshuo rice noodle, authentic Italian coffee, Western-style food, etc. So now, ask for a cup of coffee and let the pretty scenery and dulcet music take you to a fantastic world.