Shanghai isn't the type of destination that you can see all of it in one day. Instead, it takes quite a while to reveal every charming side of the city. You can start from the modern iconic landmarks to old floating towns, and stop at culture museums in the middle. Beautiful gardens and green spaces are also worth a visit to hang out with locals. Shanghai destinations are plentiful and unique, give our list a check to find the ones you like best.
Most Popular Shanghai Attractions
The Bund
Known as the most-visited attraction in Shanghai, the Bund is a waterfront area on the west side of the Huangpu River, flanked with numerous old buildings. They are all beautifully-designed and represent many architectural styles like Romanesque, Gothic and Renaissance. And on the east side of the river, visitors can see rows and rows of modern skyscrapers. It is best to visit the Bund at night, all the buildings and skyscrapers will be lit up with colorful lights.
Oriental Pearl Tower
In the Huangpu River in Pudong New Area, tourists will find the most iconic symbol of Shanghai – the Oriental Pearl Tower. Once the tallest building in Shanghai, this tower main function is to broadcast radio and TV programs. However, there are numerous experiences for tourists worldwide. You can get a view of the city in one of the 15 observation decks or dine at the revolving restaurant, which is located at the 264-meter level. Especially, one outdoor viewing platform has the floor made of glass, which is guaranteed to be the most thrilling experience in Shanghai.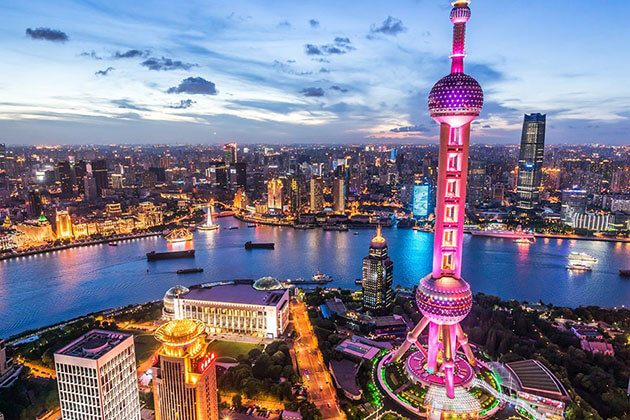 Yu Garden
In the 16th century, Pan Yunduan – a Ming Dynasty official – ordered a majestic garden to be built for his father to spend his senior years. It is the Yu garden as you can see now in the northeast of the Old City of Shanghai. Its name means happiness and pleasing, which is how people would feel when they visit the garden. Designed with classical Chinese architectural style, the garden has numerous rockeries, halls, pavilions, pagodas, plants, and ponds. The areas surrounding the Yu garden is also worth visiting as there are plenty of street food and souvenirs shops.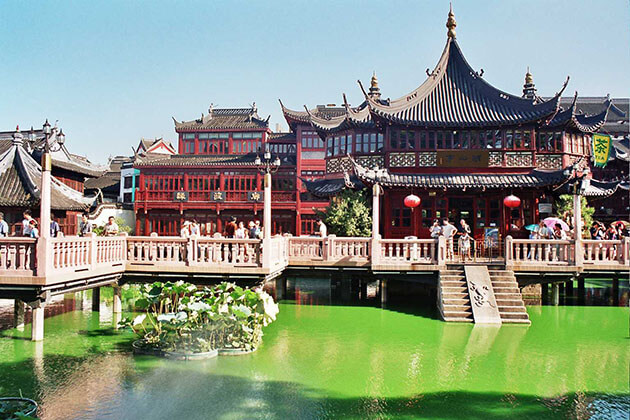 Shanghai World Financial Center
One of a few major financial centers in the world, this destination is highly recommended for all visitors. You will get to see the Shanghai World Financial Center, which is nearly 500 meters tall, and other inovatively designed skyscrapers. One of the best experiences here is to take the elevator up to the observation deck that lies near the top of the building to witness the stunning view of Shanghai. But if you are afraid of heights, there are plenty of shopping malls and a big hotel in Shanghai World Financial Center for you to discover.
Shanghai Attractions – Historical Sites
Tianzifang
Tianzifang is located in Taikang Rd, Da Pu Qiao, the former French Concession area. This is an artistic attraction with narrow alleys full of boutique shops, cafes & bars. Take the time to wander through little houses that represent the harmony of traditional Chinese architecture and modern aesthetics. Tianzifang has a charming, relaxing vibe that makes it one of the most favorite destinations for locals. And lastly, trendy galleries and studios here are also great for shopping if you are looking for unique and artistic gifts from a Shanghai tour.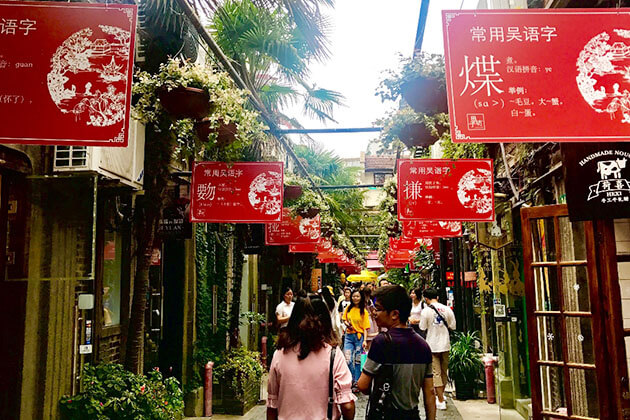 Longhua Temple
Buddhism is an important aspect of Chinese culture, and visiting temples is a good way to find peace in the busy modern lifestyle. Longhua temple is one of the oldest in Shanghai, with the original construction started in 242 AD. The temple witnessed major changes in Chinese history, destroyed by war and conflicts. However, most of the present-day buildings were able to maintain the architectural design of a Song dynasty of the 10th century. Nowadays, tourists can visit Longhua to enjoy the view and send their prayer to the Buddha.
Shanghai Attractions for A Cultural Experience
Nanjing Road
Nanjing Road is a shopaholic's heaven on earth. This is the most famous shopping street in Shanghai, and very well-known worldwide too. Hundreds of beautiful shops beautiful items and flashing neon at night, it is easy to understand why the number of visitors going here could reach a million in a day.
Nanjing Road was first built in 1845 when there were only traditional Chinese stores that sell daily necessities. Nowadays, tourists will have the opportunity to shop almost anything in the most upscale shops and get some rest at fancy restaurants and hotels nearby.