Hong Kong, which is considered proudly as one of the busiest and the most developed metropolitan hubs in Asia, is a wonderful must-visit destination for travelers all around the world. When setting foot on this futuristic country, visitors will be surprised by a lot of impressive things such as super-tall skyscrapers, countless shopping malls, myriad luxury restaurants, shimmering harbors, superb public transportation networks, etc. Besides, visitors can find glimpses of tranquility in Hong Kong with several humble fishing villages, peaceful Taoist temples, remote walking trails, graceful tai-chi practitioners in small city parks, etc. The former British Crown Colony is a fascinating place for tourists to discover. The following is the guide to explore the most attractive sights and best recommended activities for your Hong Kong tour.
Star Ferry 
Star Ferry, a symbol of the city, is a must-visit destination when you come to Hong Kong. Originally introduced in the late 1800s, these humble white and green boats transport guests between the Kowloon Peninsula and Hong Kong Island. They give visitors the most incredible route through the city with the calm water, towering skyscrapers and mountains beyond. At about 25 cents a ride, the 10-minute route is the most wonderful way to float along the water, enjoy the mesmerizing vistas and have numerous amazing photos.
Some recommended catching the ferry at 8 p.m. for the Symphony at Lights Show – the world's largest light and sound show. Moreover, at the ferry pier, visitors should go upstairs to sit on the upper deck, which is less crowded and cooler.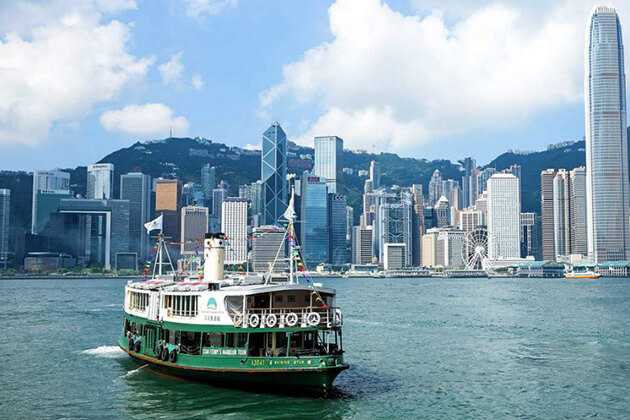 Victoria Peak 
Among the first things you need to add to your to-see list in Hong Kong is Victoria Peak. Standing at 552m, it is the highest point on Hong Kong Island. As one of the most famous destinations for tourists in Hong Kong, Victoria Peak provides a scenic view with verdant woods, green hills, beautiful blue waterways, and an excellent sea of skyscrapers, etc. The view at Victoria Peak is amazing at any time, especially at night. The popular route to reach Victoria Peak is by way of the Peak Tram. Opened in 1888, this historic tram is the most spectacular path to the top. It opens at 7 am closes at midnight every day. Round-trip tickets cost about $5.15 for adults, $2.32 for children and seniors.
Especially, it's very crowded on weekends, so visitors can catch a bus or take a taxi to get to the top and start a journey early. Visitors are also suggested checking the weather before going because Hong Kong can get foggy.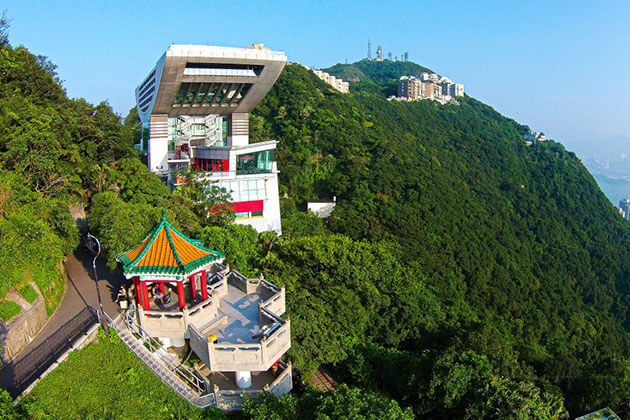 Street Night Market 
Don't miss the Street Night Markets in your Hong Kong tour. When the sun sets below the horizon, night falls and neon buzzes, Hong Kong's markets become lively. Walking through street night markets, visitors can see the streets bustling with numerous activities, old shops blending with modern ones. Street markets in Hong Kong are very diverse, providing various clientele with different products. For example, the Ladies' Market specializes in women's clothing and accessories. If you want to buy souvenirs, Cat Street Market is a good choice. There are a lot of vintage posters, Chinese pottery, and jewelry boxes, etc. sold in some antique shops. For food, head to Woo Sung Street Market, visitors can find seafood, noodles, meat, and ice-cold beer, etc. Especially, the best one should be the Temple Street Night Market, which is outstanding with many types of home décor, various kinds of jewelry, colorful souvenirs, electronics to construction materials. The market is busy from 7 pm to 10 pm.
To reach the market, visitors can take exit C2 from the Jordan MTR station and walk along Bowring St, or exit C from the Yau Ma Tei MTR station, then follow Man Ming Lane.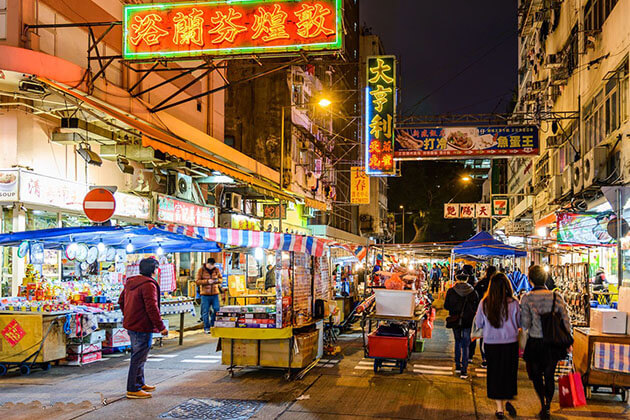 Hong Kong Disneyland 
Definitely, as one of the happiest places for families to visit in Hong Kong, Hong Kong Disneyland is the very place where dreams of the young and the young at heart come true. It is a world created from human imagination and his desire to tell stories with a wide range of characters from Disney movies. Hong Kong Disneyland includes seven distinct lands such as Mystic Point, Main Street, U.S.A., Grizzly Gulch, Toy Story Land, Adventure land, Tomorrow land, Fantasyland, and Future: Frozen Land. There are a lot of the same attractions as the American parks like Space Mountain and Sleeping Beauty's Castle, etc. Coming here, you will have an amazing chance to get memorable photos. Hong Kong Disneyland will give you a call to your childhood and remind you of the old days.
Hong Kong Disneyland can be reached easily via the MTR's Disneyland Resort Line. The tickets cost is HK$539 (about $69) for adults and HK$385 (about $49.60) for kids. It opens from 10:30 a.m. to 8:15 p.m. every day.