It is easy to understand that planning a trip on a cruise ship for the first time is quite daunting. You have to decide where you will go, how long you will stay, the type of cruise ship, the time of the year, which cruise line is better, etc. And you haven't had any experience yet! But there is no need to worry as China Shore Excursion is here to offer you the best tips for the first-time cruiser to make sure you will have the nicest cruise ship experiences.
Tips for First-time Cruisers Before the Trip 
Pre-book Activities and Services
There are plenty of activities and services being offered on cruise ships: music shows, classes, spa, specialty restaurants, etc. Peak seasons for traveling like holiday seasons and the spring and summer breaks can witness high-traffic on cruise ships, therefore, reservations for onboard services will run out quickly. Moreover, it is easier to balance and control your budget if you book beforehand. With this, you can avoid spur-of-the-moment purchases while on board. And lastly, studying your options in advance means that you will have an overview of all the prices, which can help you cruise with confidence.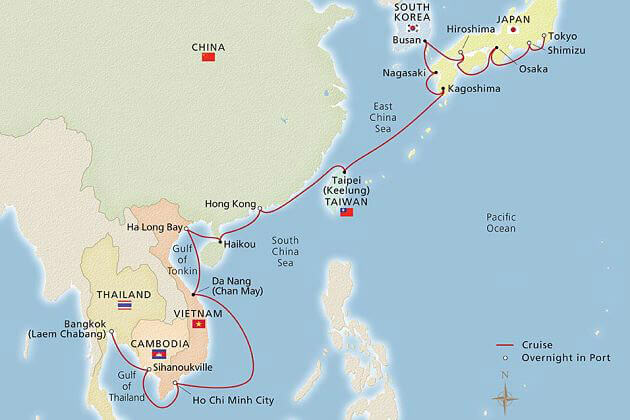 Arrive Early
Just like traveling by plane or coach, your cruise ship will leave at its departure time even if you haven't arrived. Therefore, it is best to arrive early for at least 3 – 4 hours just in case of a delayed flight or heavy traffic.
Prepare a Carry-On Bag
At the departure time, there will be hundreds of passengers like you all boarding at once. Consequently, it might take a few hours before you can have your luggage arriving in your room. So bring with you a carry-on bag that has all the necessary items like ID, travel documents, medications, camera, sunscreen, clothing and even bathing suit if you don't want to waste those bright sun lights.
First Time Cruise Tips For When On Board
Turn Off Your Phone Signal and Sticks to Wi-fi Only
Many passengers choose to have international roaming to stay in touch with their friends or finish their work while on board. However, most people don't know that it could cost them hundreds of dollars because international roaming rates also apply even if you don't make a call. It is best to switch to airplane mode and sticks to Wi-fi signals on your cruise. If you still need international roaming, contact your mobile network operator for travel-worthy phone plans.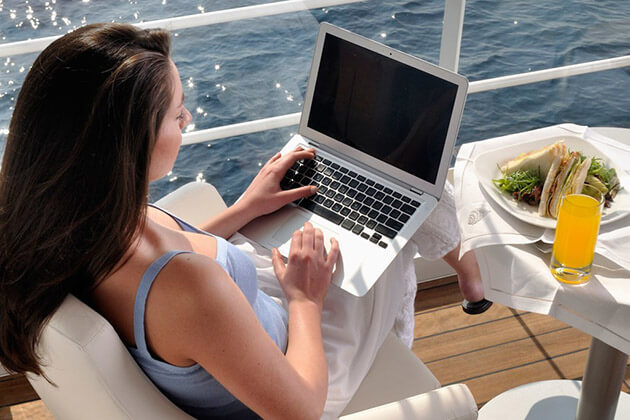 The Cruise Isn't All-Inclusive
Normally, your cruise fare will cover your stateroom, meals, some onboard activities and access to entertainment. But it is not all-inclusive. There are other fees and packages that you will have to pay while onboard. For example drinks, gratuities, shore excursions, internet, taxes, and port fee. The total average add-up fees can be as high as hundreds of dollars, which can cause a sticker shock for first-time cruisers. However, this shock can be prevented if you know well about what's included in your fare. Read your cruise tour information thoroughly and contact your cruise line for any question that you may have.
First-time Cruiser, Pace Yourself
Cruise ships are amazing as they offer passengers with a plethora of activities options on deck. There are dance classes, movies, seminars, arts and crafts, comedians, performances and bands. You will also have to make time for meals, swimming and relaxing. First-time cruisers might feel the need to fit it all in and get overwhelmed later. But actually, you don't have to. Take a look at the ship's newsletter with activities schedule and mark your top choices. That way, you won't get exhausted afterward.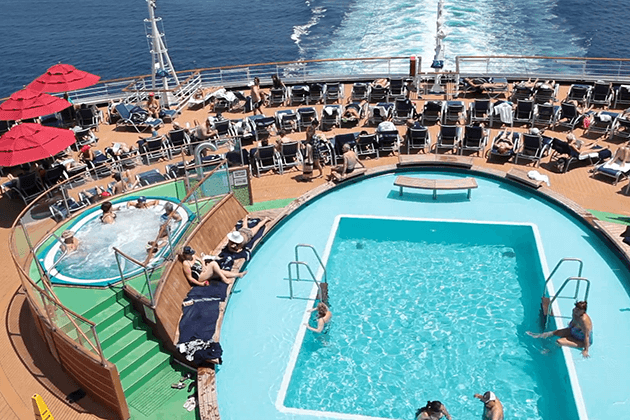 Tipping is Automatic
In the past, the traditional way to tip on cruise ships is that passengers would place cash in envelops to give to staff at the end of their stay. Nowadays, many cruise lines apply an automatic gratuity system. Most of the staff like housekeepers and dining crews, including those who work behind-the-scenes, share the tips from a pooled system of gratuities. However, bar and spa services are excluded and their tips are added directly when you pay. So while on board and ordering a drink or enjoying a massage, the price will include 15 to 18 percent gratuity.
Tips That First Time Cruiser Should Know When Arriving at Ports
Be Aware of The Time
As you travel through long distances, you may go through ports that have different time zones. Make sure you get the time right before leaving the cruise for a shore excursion to be back on time, preferably 30 minutes before the ship's departure at least. Because the ship won't wait if you're late!
Un-packaged Food is Not Allowed in Ports
When getting off at a port, many passengers bring food from the ship to have a picnic or use later in their shore excursion. However, it is not allowed to do that. All types of meat, cheese, nuts, seeds, baked products, and fresh fruits and vegetables are prohibited to bring into ports. Some ports are even equipped with sniffer dogs to check passenger bags. You can still bring prepackaged and sealed snacks like cookies, granola bars or chips.
The Last Tip: Enjoy Your First Cruise Ship
After having to spend all the money and efforts to plan a vacation on a cruise ship, you deserve to be relaxed and enjoy your time there. Don't try to stress out by chasing all the activities available. Choose the best for yourself.